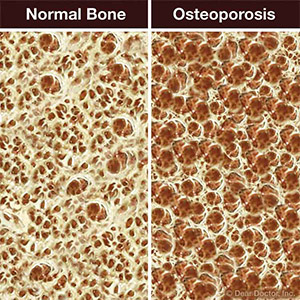 Osteoporosis is a major health condition affecting millions of people, mostly women over 50. The disease weakens bone strength to the point that a minor fall or even coughing can result in broken bones. And, in an effort to treat it, some patients might find themselves at higher risk of complications during invasive dental procedures.
Over the years a number of drugs have been used to slow the disease's progression and help the bone resist fracturing. Two of the most common kinds are bisphosphonates (Fosamax™) and RANKL inhibitors (Prolia™). They work by eliminating certain bone cells called osteoclasts, which normally break down and eliminate older bone cells to make way for newer cells created by osteoblasts.
By reducing the osteoclast cells, older bone cells live longer, which can reduce the weakening of the bone short-term. But these older cells, which normally wouldn't survive as long, tend to become brittle and fragile after a few years of taking these drugs.
This may even cause the bone itself to begin dying, a relatively rare condition called osteonecrosis. Besides the femur in the leg, the bone most susceptible to osteonecrosis is the jawbone. This could create complications during oral procedures like jaw surgery or tooth extractions.
For this reason, doctors recommend reevaluating the need for these types of medications after 3-5 years. Dentists further recommend, in conjunction with the physician treating osteoporosis, that a patient take a "drug holiday" from either of these two medications for several months before and after any planned oral surgery or invasive dental procedure.
If you have osteoporosis, you may also want to consider alternatives to bisphosphonates and RANKL inhibitors. New drugs like raloxifene (which may also decrease the risk of breast cancer) and teriparatide work differently than the two more common drugs and may avoid their side effects. Taking supplements of Vitamin D and calcium may also improve bone health. If your physician still recommends bisphosphonates, you might discuss newer versions of the drugs that pose less risk of osteonecrosis.
Managing osteoporosis is often a balancing act between alleviating symptoms of the disease and protecting other aspects of your health. Finding that balance may help you avoid future problems, especially to your dental health.
If you would like more information on osteoporosis and dental care, please contact us or schedule an appointment for a consultation. You can also learn more about this topic by reading the Dear Doctor magazine article "Osteoporosis Drugs & Dental Treatment."