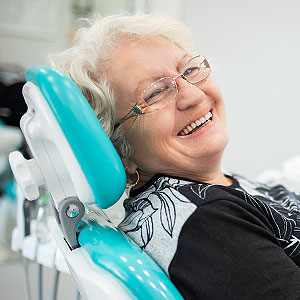 Millions of people are currently caring for an elderly family member. If that describes your family, then you know how overwhelming that responsibility can be at times.
A part of that responsibility is making sure they have healthy teeth and gums, a critical part of their overall well-being. But as with the rest of the body, teeth and gums can wear and become disease-prone as a person gets older. To further complicate things, an older adult may not be able to take care of their own oral health due to physical and cognitive decline.
Maintaining an older loved one's oral health is difficult, but not impossible. Here are 4 areas on which you should focus to ensure they have the healthiest teeth and gums possible.
Oral hygiene. It's important for all of us to avoid tooth decay and gum disease by brushing and flossing daily to remove bacterial plaque, the prime cause for dental disease. You can switch an older adult who is having trouble performing these tasks because of physical impairment to large handled toothbrushes or a water flosser to make things easier. In some cases, you may have to perform these tasks for them.
Dental visits. Dental cleanings at least twice a year further lower the risk of disease, especially in older adults. Regular dental visits are also important to monitor an older person's oral health, and to initiate treatment when the need arises. Catching dental disease early at any age improves outcomes.
Dental work. An older person may have various forms of dental work like fillings, crowns, bridges or dentures. Keeping them in top shape helps them maintain their oral health and protect any of their remaining teeth. Have their dental work checked regularly by a dentist, especially dentures that can lose their fit over time.
Oral cancer. Although not as prevalent as other forms, this deadly cancer does occur in higher rates among people over 65. Be sure, then, that an oral cancer screening is a component of your older family member's regular dental evaluations. And any time you notice a sore or other abnormality in their mouth, have it evaluated by their dentist as soon as possible.
If you would like more information on dental care for older adults, please contact us or schedule an appointment for a consultation. You can also learn more about this topic by reading the Dear Doctor magazine article "Aging & Dental Health."